Microwave Proofing System
Features
System layout

What is Microwave Proofing System ?
Divided and rounded dough pieces are irradiated by microwave to rise dough temperature about 5°C, which leads to promotion of relaxation of dough structure, expansion of gas in the dough, and acceleration/shortening of proofing time by helping fermentation of yeast.
Proofing time cuts down to half of conventional proofing time
Graph 1 shows the comparison of conventional proofing and microwave irradiation treatment for dough specific gravity after dividing and rounding dough.
Specific gravity after 15 minutes conventional proofing is equivalent to 7.5 minutes microwave irradiation treatment.
Graph 2 shows the comparison of pressure value required to the rollers when moulding the dough after dividing and rounding.
As same as specific gravity value, pressure value after 15 minutes conventional proofing is equivalent to 7.5 minutes microwave irradiation treatment.
As result of these experiments,
microwave irradiation treatment can be cut down to half of conventional proofing time.
The quality such as taste, smell of bread make little difference from conventional Proofing.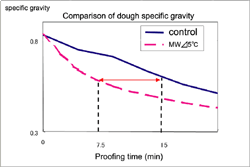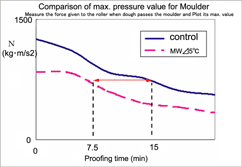 Home line dough make-up equipment
1.Two rows small divider for connection of Gyrator
< Model DQG >
Compact Divider/Rounder to handle 30 to 230 grams of variety bread dough
Cassette type of pocket to fit dough weight
Advancement of cleaning by construction improvement of product zone
Sanitation by separation of product zone and driving system/advancement of maintenance
2.Gyratory Rounder < Model GQS >
The first gyratory small rounder for variety bread
Changeable rounding eccentric amount according to dough weight
Variety rounding by easy cup replacement
Easy daily maintenance with see-through cover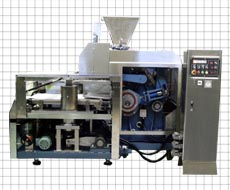 Model DQG specifications
No. of pocket
2 (Cassette type of pockets)
Scaling
range
30 - 230g
Stroke/min
10 - 20st.
(every 2 strokes adjustable)
Capacity
1200 - 2400 pcs/hr
Hopper
capacity
45 liters
Required
electric
main drive : 1.5kW
Machine
dimensions
W 810mm
Machine
weigh
Approx. 1000kg
Model GQS specifications
Rounding
method
Gyratory type
No. of rounding
station
1 station
No. of cup
2cups x 5 = 10cups
Required
electric
up & down of cup
: 1.5kW
gyration of cup
: 0.75kW
conveyor drive
: 0.75kW
spin roller
: 40W
brush roller
: 0.1kW
Machine
dimensions
W 1333mm
Machine
weight
Approx. 1200kg
3.Two rows conveyor Microwave
< Model MWS >
Microwave rising temperature unit to promote relaxation of dough construction and to shorten proofing time
Controllable output according to dough weight
Continuous treatment in two rows
Easy operation with programming selection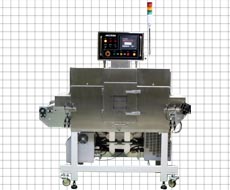 Model MWS specifications
Max. output of
oscillator
2kW
Treatment
capacity
white bread (230g)
: 1500pcs/hr
variety (30 - 110g)
: 2000pcs/hr
Required electric
(Input Power
: 5kVA)
oscillators
: 1kW x 2
conveyor drive
: 90W
spin roller
: 40W
shutter drives
: 40W x 2
Machine
dimensions
W 1352mm
Machine weight
Approx. 300kg
4.Two rows belt driving proofer < Model PQA >
Belt drive type of proofer from new viewpoint
Less noise and energy saving by using less metal.
New design prevents food contamination.
Easy removing tray
Oil-free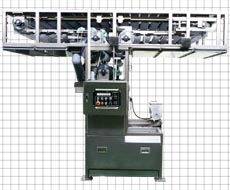 Model PQA specifications
No. of tray
60 trays
Capacity
2400 pcs/hr
(7.5min.as standard)
Proofing time
7.5min.as standard
Dough weight
30 - 230g
Required electric
main drive : 0.2kW
flour duster : 90W
Machine dimensions
W 1650mm
Machine weight
Approx. 1500kg
5.Single row moulder with infeed conveyor
< Model WFS >
New type of evolved moulder from the function of WF moulder
Using two stages roller soft to the dough
Reduction of dough damage by relief mechanism
Digital display for adjustment
Better cleaning and maintenance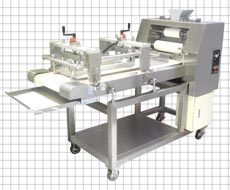 Model WFS specifications
Capacity
230g : 3000pcs/hr
30g : 4500pcs/hr
Dough weight
30 - 230g
Dia. of rollers
upper : 85mm
lower : 100mm
Roller clearance
upper : 9 - 14mm
lower : 1 - 9mm
Roller speeds
20 - 46m/min
Height of pressure board
10 - 50mm
Range of width plate
100 - 330mm
Required electric
main drive
: 0.4kW
Machine dimensions
W 3215mm
Machine weight
Approx. 350kg


We're certified with ISO9001:2008.