Mini 'BUN' Line
OSHIKIRI offers New concept of the bun make-up system.
OSHIKIRI new bun make-up system on our own extrusion dividing technology creates not only Low cost / High quality / Uniformity of the production, but also food safety against contamination problems. Especially the divider is highly considered on cleaning from a viewpoint of food safety.
All the major components of the divider can be disassembled and are washable for cleaning, besides automatic cleaning. Recipe management of over 20 products and the integrated controls ensure the excellent line performance to efficiently produce soft buns and rolls.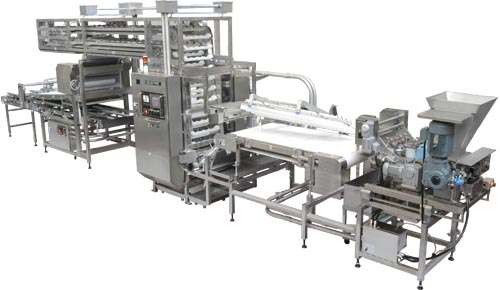 Mini Bun Line
Speed range
500 - 1,000 doz/hr
(6,000 - 12,000 pcs/hr)
Scaling range
1 - 3.5 oz (28 - 100 g)
Divider
Extrusion Bun Divider Model CBD4
Stainless steel frame, hopper and tunnel
UHMW single feed auger
Stainless steel Sine pump for metering provides excellent throughput, service life and little work to dough
Individually adjustable UHMW manifolds

(Pic.1)


provide excellent scaling accuracy easy to handle, disassemble and washable transparent covers, digital indicators
Rotary cut-off device with motion of proceeding direction

(Pic.2)


provide steadier cutting performance UHMW cut-off knife
--- precise, smooth dividing and replaceable
Automatic cleaning system C.I.P
Pneumatic pushback for ease of changeover, cleaning and maintenance
Venturi type vacuum generator with in-line filter and automatic blow-back in C.I.P mode.
Dough catch pan with casters
Dough pressure controlled via automatic PID loop
Variable speed controls on all drives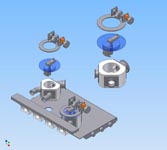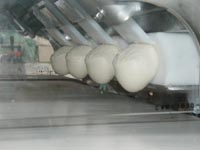 Rounder
Bun Rounder Model CBR4
Cantilevered bed structure for easy belt replacement
Replaceable stainless steel top plate on the bed
UHMW grooved non-stick rounder bars provide beautiful round dough shape

(Pic.3)

Plunger loaded foot bars--- hygienic, easy to replace
Hinged rounder bar frame with gas assist
Non-stick type rounder belt
Side rollers for belt tracking
Stainless steel belt scraper
Teflon coated kicker roller with independent variable speed drive
Variable belt speed with direct drive gear motor
Cooling jacket, insulation (Option)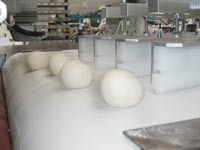 Proofer
Proofer / Control Model PB4
Stainless steel frame construction
Sanitary UHMW zigzag board and adjustable lane guides

(Pic.4)

Pneumatic driven flapper gate
Flour sifter with variable speed control
Inclined loading zone for more accurate transfer of dough balls into trays
Variable tray speed
Alarm for looseness of chain tension
Dust catch pans for entire chain guides
Touch panel view
Recipe management of 25 products
Flour reclaim system (Option)

(Pic.5)

Mitsubishi PLC control
Mitsubishi AC variable speed inverters
Control system automatically sets up the divider drives, proofer synchronization, rounder belt, sheeter rollers, moulder belt, panning conveyor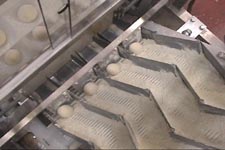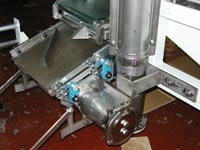 Sheet Moulder with Panner
Sheeter / Moulder / Panner Model MGP1
150mm( 6") diameter TEFLON sheeting rollers

(Pic.6)

Polyurethane belt with rough top and no stretch backing
Teflon coated panning chute, no touch with pans
Mechanical pan indexer

(Pic.7)

Variable roller speed
Variable belt speed
Dual lane plastic top chain on the pan conveyor
Flour remover (Option)

(Pic.8,9)

Moulding pressure boards and pneumatic hot dog gate (Option)

(Pic.10,11)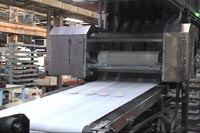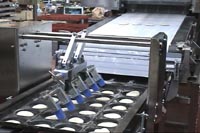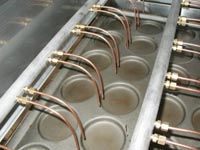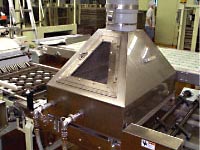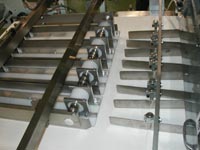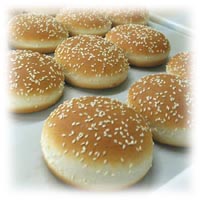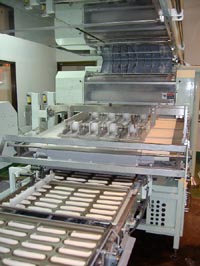 We're certified with ISO9001:2008.